Kids need help growing up. They need adults to come alongside them and provide inspiration.  Coach Smith knows all about it. He spent most of his childhood in the foster care system. It was tough.  Coach teaches the kids he's entrusted with more than how to stand up to bullies and not be intimidated.
MMA, Boxing, Wrestling, and Self-Defense for Kids
Kids MMA
Get your children going in our Kids MMA classes. Our starter package provides an SMA authentic tee shirt, a 30-minute private lesson with Coach Smith, and a full month of unlimited classes.
Class is Mon/Wed at 3:15pm.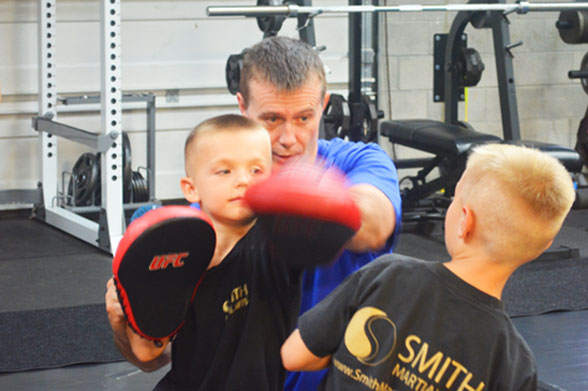 There's More Than Fighting to the Martial Arts
Coach Smith teaches self-control, self-discipline, integrity, the value of hard work… and more.
The best way to know whether our gym is best for you and your family is to come on in and step out on the mat. One thing we KNOW you'll realize is that our methods are aimed at getting RESULTS.
Ninja Camp
During school breaks we offer our Kids Ninja Camp.  Kids get to race their own times,  improve their coordination, stay active and boost self-confidence. Activities will include obstacle course, punching/kicking, fitness, climbing, tumbling, and agility all in a fun environment tailored to kids.